From a shared office space to a successful tech startup in US
We successfully established and executed a Digital Department in Residence, where we assisted young but talented founders from their first sales at Roskilde Festival to a successful investment, production outsourcing, Kickstarter campaign and global digital sales including their successful entrance to US market.
Visit website
Global Online Sales
Executing online sales as main revenue channel including strategy, web development, customer development and growth campaigns.
Identity & Positioing
Developing core principles of brand identity and communication positioning for company's main segments.
Best Kickstarter in region
Developing and executing a secure digital strategy for achieving success in Kickstarter fundraising. It resultted to be the best funded Kickstarter in Scandinavia at that time.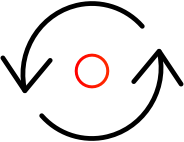 Automatisation
Automating sales process in terms of accounting and logistics.